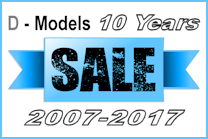 Model of the Month August

For a limited time only the prices of all Galleries of Catharina are reduced by 50% and there are also 4 special Gallery Collections available with the Galleries in a larger resolution!




Hello & welcome to my small website on D-Models!


My name is Catharina and I'm 27 years old. I live in The Netherlands in a town called Heerlen. I live there with my husband and our 3 cats. In 2002 I was diagnosed with bone cancer. Two months later I was told that they had to amputate my right leg above the knee otherwise I wouldn't make it. After a lot of rehabilitation I was able to walk again with a prosthetic leg. It took a lot of strength to stand where I am standing now in my life. In 2007 the doctors said that I'm all 'clean', so that was a reason for a party!

After I finished my law studies, I started working for an insurance company. In my spare time I love to hug with our cats and of course with my husband. Like every girl I love to shop. Most of the time I go with my mother or sister. A few years ago I was asked to join the D-Models website. I had to think about it first, but I decided to give it a try. The first photoshoot was very nice but also a bit strange because usually I don't go out without my prosthetic leg. I really didn't know what to expect from this website. After the first shoot I decided that I like the way it turned out and that I was willing to do more shoots. During the second shoot we were helped by the result of a poll. You can see some results if you browse through the pictures on the left! So far I did 3 photoshoots, but after all 12 galleries from these shoots were published in 2013 I thought it was time to stop with my website. The main reason was that I was very busy back then with my graduation. Now that I'm working I think it is time to pick up where I have left over a year ago. I'm also planning to do more photoshoots soon. When these will take place is a bit unsure because at this moment I am pregnant and I will expect my first baby in september 2015.

For now I hope you all enjoy my "old" photo's and if you want to know more about me feel free to ask me a question by sending me an email!



E-Mail: catharina@tajvdz.nl