Please read this Disclaimer carefully! If you still have questions or when you have problems with this website please contact D-Models by e-mail. When you think certain information on this page is missing feel free to write an e-mail as well. When the information is of any value to this page it will be added.

This page is devided in 4 sections:




---
april 30, 2012 [revised november 24, 2013]
---
The D-Models website is located and hosted from The Netherlands.
You can contact D-Models by e-mail on the following address:

d-models@tajvdz.nl.
---
---
- General information about this website
For over ten years now I like to make websites with pictures on it. When I started to take sports pictures for one of my websites I thought it would be nice to use my camera to make some modelling pictures as well. It was very hard to find some models back then because there was nothing I could show of my previous work. Finally I found myself a model to take some pictures off. She was in a wheelchair but I didn't care because I saw it as a start. It did work and soon after that I was able to expand my portfolio as a photographer. Because of my experience with a disabled model and the connections I got through her I came along some other disabled girls who wanted to have their pictures taken as well. In 2005 I started the Amanda website and I also had a photoshoot with Evelien and Lyzette. It was not my intention to sell their pictures at first but I got some positive reactions. Because I was starting seling pictures on the Amanda website I decided, after asking them first, to start a website for Evelien and Lyzette as well. That's how it all started and after that 3 new models joined. It were all seperate sites at first, but it became too complicated to maintain 5 sites. With also keeping in mind that there will be more models I thought it was time to merge all seperate sites to one new site. That's how the D-Models wedstite started in 2007. All models still can be reached seperately as well. Over the years I made a few small changes in the lay-out and improved the website further. The Amanda website is still kept seperate and can be reached by a link on this site and the model sites as well. The apearance of this website can change from time to time. All changes on this website will be mentioned on the "News" page.

- The models on this website
The models used on this website are fully aware that pictures of them are published on this website. They contacted me after seeing this website or I asked them after showing it to them. I take the pictures on a shoot where the models also sign a contract about the way they got payed for it and they agree that the pictures will be used on this website. After taking the pictures and telling their story the models don't have to maintain the website theirselves. This is all done by D-Models. Some models chose a different name for this website to keep their privacy. If you want to get in touch with one of the models you can send them an email. In all cases it is important to know to respect all model's privacy and treat them as a human being! If you feel in any way offended by material published on this website please contact D-Models by e-mail.

- How this website works
It is possible to browse on this website and all attached model pages. By clicking on the modelpages you stay within the D-Models website. The main goal of this website is to show pictures of disabled women and sell them. On each model page you can see some pictures for free. If you want to see more you can buy picture sets on the "Galleries" pages . To get direct access to the picturesets Click and Buy and Paypal are used as a payment system and you can make the transaction by clicking on the logo of the system you like to use next to the picture set you want to buy. At the other side of the logo you see the price in € (Euro / 1 euro = 1.25 US $) you have to pay to see the pictureset. The price of the sets depends on the quality and number of the pictures. Click and Buy is the easiest payment system because with this system you will get direct access to the pictures. After you closed the sale on their website you will get to the picture gallery where you can view the pictures and save them in jpg format to your own computer. The time you have for this is one hour! If the time is different it is mentioned before you have to pay. The most recent galleries also have the possibilty to download all pictures together in a zip file. Please note that if you leave the website and come back more than one hour (or another mentioned time) after you made the purchase that you have to pay again! You will get a warning of payment again, but please keep this in mind! I think one hour should be more than enough to save the pictures, especially those who have a zipfile with all pictures included. After a few requests Paypal was also added as a payment system. Because Click and Buy is much easier for us to maintain we made a difference between them. The price is the same but you will not have instant access to the pictures after you payed for them. After closing the sale on their website you will receive a confirmation right away and within 12 hours you will also receive an email with a link to download the pictures as a zipfile on the TransferBigFiles.com website. Be aware that a few hours after you downloaded the file the link will be disabled!
By paying for one gallery you have a commitment to D-Moldels to stick to their Terms & Conditions. Besides that you have no further contract or paymant obligation with D-Models, so there are no recurring payments or subscriptions. For questions about Click and Buy or Paypal read the section "About Click and Buy / Paypal" below.
After the introduction of Paypal it is possible that not all content can be payed with Paypal right away. It will take a few weeks to add all Paypal links!

- refund?
Be aware that there is no possibility in getting a refund after you payed for a gallery with Click and Buy! With digital downloads it is not possible to return goods. Buying pictures is at your own risk and for each gallery there is a thumbnail-preview so you can see what is iniside the gallery. With Paypal it is different because after you payed you will receive a download link manually. If you made a purchase with Paypal by mistake it is possible to get a refund before you received the download link. After the email with the link was send it is not possible anymore! If there is a problem by getting access to the content or viewing it after you payed for it please contact D-Models by e-mail. With a proof of payment you can get access to the gallery in another way.

- Copyright
The copyright of the pictures used on this website belongs to tajvdz / D-Models. If you decide to pay for the pictures please keep in mind that you buy the pictures for your own use. It's illegal to spread these pictures on the internet and post them in newsgroups without the permission of the copyright holder! Abuse of these rules will lead to legal sanctions! The models who have posed for the pictures will get their part of the benefit. Illegal actions will also harm their bussiness!



---
---
This privacy statement sets out how D-Models uses and protects any information that you give D-Models when you use this website. D-Models is committed to ensuring that your privacy is protected. Should we ask you to provide certain information by which you can be identified when using this website, then you can be assured that it will only be used in accordance with this privacy statement. D-Models may change this statement from time to time by updating this page. You should check this page from time to time to ensure that you are happy with any changes. This statement is effective from april 30, 2012.


- What we collect
We may collect the following information:

From time to time there are polls on this website. Most of the time they are anonymous but IP addresses are collected to keep the voting pure.
Email addresses when you send an email.

- What we do with the information we gather:
We require this information to understand your needs and provide you with a better service, and in particular for the following reasons:

Internal record keeping.
We may use the information to improve our products and services but all information will stay confidentially.

- Third party
All information about payment / using Click and Buy or Paypal and TransferBigFiles.com is out of control of D-Models. For this you have to read their Privacy Statement on the link below in the "About Click and Buy / Paypal" section! On the Amanda website is a Motigo Webstat counter to track information about visitors. With the use of this counter an add pop-up comes along. These are completely harmless in use. You can / may use a pop-up blocker to hide them at your own risk! On D-Models the Motigo Webstat counters were replaced with StatCounter recently.
If you want more information please visit the following links:





(* these links will open in a new window!)

- Security
We are committed to ensuring that your information is secure. In order to prevent unauthorised access or disclosure, we have put in place suitable physical, electronic and managerial procedures to safeguard and secure the information we collect online.

- Facebook page
D-Models also has a page on Facebook. There is a direct link on this website to that page and visitors can also "Like" our page directly from this webiste. D-Models does not collect any data for that and all further action on the Facebook page will be covered by the rules of Facebook.
If you want more information please visit the following links:





(* these links will open in a new window!)

- Newsletter
Visitors can sign up for a newsletter by filling in their email address on the website. With the newsletter they will be informed about updates on this website and other major news about D-Models. In no circumstances these addresses will be passed through to other parties, they will only be used by D-Models.

- Cookies
Except for the use of Motigo, StatCounter, Click and Buy, Paypal and TransferBigFiles.com D-Models doesn't use cookies.
A cookie is a small file which asks permission to be placed on your computer's hard drive. Once you agree, the file is added and the cookie helps analyse web traffic or lets you know when you visit a particular site. Cookies allow web applications to respond to you as an individual. The web application can tailor its operations to your needs, likes and dislikes by gathering and remembering information about your preferences.

- Downloads
All pictures you can download inside a gallery are in jpg format or combined into a zip file. All content you download from D-Models or from a download link is tested virus free and will not harm your computer!

- Links to other websites
This website may contain links to other websites of interest. However, once you have used these links to leave this site, you should note that we do not have any control over that other website. Therefore, we cannot be responsible for the protection and privacy of any information which you provide whilst visiting such sites and such sites are not governed by this privacy statement. You should exercise caution and look at the privacy statement applicable to the website in question.


If you believe that any information we are holding on you is incorrect or incomplete, please email D-Models as soon as possible, at the above address. We will promptly correct any information found to be incorrect.



---
---
Click and Buy and Paypal are very secure and easy to use payment system.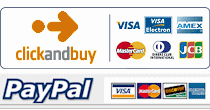 They can be used from all over the world and you can pay in your own currency. It depends on the country you live in what ways you can use to pay, but it's always possible to pay with a credit card. You only have to register once to get very fast access and the second time you them you only have to log in. With Paypal it is also possible to pay without having an account with them.

For problems with the payment system you should contact Click and Buy or Paypal directly! If you keep having problems that Click and Buy or Paypal can't solve don't hesitate to contact D-Models by e-mail to find a solution.

If you want more information please visit the following links:





(* these links will open in a new window!)