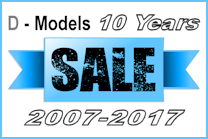 Hello & welcome to my small website on D-Models!


My name is Cindy and I'm 19 years old. I live in The Netherlands in a town called The Hague. I live there with my parents and brother. I was born with Spina Bifida and that's why I'm in a wheelchair. I have very little feeling in my legs and I'm not able to walk. However this didn't stopped me from having a normal childhood like any other kid. I didn't go to a special school and all other kids on my school treated me like any other classmate. This really helped me and I never felt that I was different. I don't think of myself that I'm disabled, I only have to deal with a little mistake made by mother nature. But I think everyone has such a defect but it doesn't show all the time. I enjoy my life and me being in a wheelchair doesn't stop me from doing things I like to do!

Next year I hope to finish my study for junior business consultant. I'm not sure If I'll continue studying or if I'm going to look for a job. In my spare time I like to go shopping, do some reading, singing and playing wheelchair basketball. And maybe I found a new hobby in modelling as well! This was my first shoot but I was asked to join D-Models before. The first time I said no, because I didn't like the idea of being on a disabled website and maybe I didn't have enough confidence to see myself as a model as well. Later I heard from my friend Nathalie, who I know from wheelchair basketball that she was asked as well and that she was going to do it. After I saw the results of her shoot I started to wonder if I made the right decision. I never saw her as a model before but she looked great! Only thing I still had my doubts about was that I'd rather be on a regular website because I don't want to be seen as a disabled but as a normal person. After having talked about it with friends and giving it another thought I decided to give it a try after all. We only did sets in my wheelchair this time because we only had a few hours and we had to deal with rain as well. I really like the result and if you do as well, I'm willing to do more shoots for this website in the future. I will also do some without my wheelchair then! And who knows, maybe this is a start of modelling career elsewhere!

I hope you all enjoy my photo's and if you want to know more about me feel free to ask me a question by sending me an email!



E-Mail: cindy@tajvdz.nl