Special Sale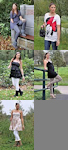 For a limited time only the prices of all Galleries of Dominique are reduced by 50% and there is also a special Gallery available with all 5 Galleries in a larger resolution for a very low price!




Hello & welcome to my small website on D-Models!


My name is Dominique, but most of the time they call me Nikki.
I'm 21 years old and I live in The Netherlands in a town called Alkmaar. I live there together with my mother and my 2 fish. Since birth I miss my right arm below the elbow. During the pregnancy my arm got squashed. This caused that too little blood could flow so the growth stopped. Actually it never bothered me. At school I was able to come along fine with gymnastics and other activities. Occasionally I got a remark or nasty comment on my disability, but this was very rare and didn't harm me at all! My mother always told me that I'm unique just because I'm different than others. When I was verbally abused by someone, I said very proudly: "I might miss my hand, but you lack common sense!" I've always had many friends and acquaintances and I don't have any problems around men, so according to that I don't see myself as different. I have a happy, funny and spontaneous personality. I don't care what others say about me, as long as I'm satisfied with it myself! During the day I work with people and in my spare time I'm a party animal! I like to go out with friends and I also like to draw. I also occasionally do some work as a makeup artist and I did some photoshoots in the past.

Last year, after I did some work as a makeup artists for another model, I was asked to join D-Models, but due to a busy schedule and a break in doing photoshoots it was postponed, until now! I like the pictures a lot myself and I hope that you like them as well! If you want to know more about me feel free to ask me a question by sending me an email!



E-Mail: dominique@tajvdz.nl