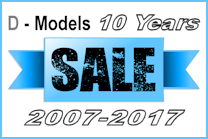 Model of the Month November

For a limited time only the prices of the Galleries of Gabriele are reduced by 50% and there is also a special Gallery Collections available with all 4 Galleries in a larger resolution!




Hello & welcome to my small website on D-Models!


My name is Gabriele and I'm 25 years old. I live in Germany, very close to the border with The Netherlands, in a town called Bocholt. I was born in Haiti, my mother died soon after my birth and my father is unknown. So I became an orphan at very young age and I was raised by family under very poor conditions. When I was 2 years old I was infected by a virus. I didn't receive the treatment that was necessary and after a while I was completely paralyzed from the chest down. I was lucky that a German doctor saw me. He couldn't give me the right care over there so he arranged for me to go to Germany. Over here I was stabalized, but after I recovered I didn't succeed in getting back to walk. I'm partitially paralyzed now from the waist down and need a wheelchair all day. I was able to stay in Germany and I was raised by foster parents who all ready had 3 children. Because of that I had a very good and warm time as a kid. I studied business management and I started my first job at a retail company last year. For 4 years now I live in my own apartment. My hobbies are going to the movies, listen to music, spending time with my friends and family and shopping. I also used to play wheelchair tennis but I don't do that anymore. My dream is to go back to Haiti one day to discover my roots.

When I was asked if I was interested in joining D-Models, I liked the idea but never did a photoshoot before. I decided to give it a go and I am very satisfied with the result.

I hope you all enjoy my photo's as well and if you want to know more about me feel free to ask me a question by sending me an email!



E-Mail: gabriele@tajvdz.nl