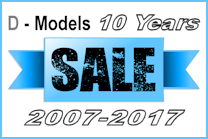 Model of the Month November

For a limited time only the prices of the first 4 Galleries of Jennifer are reduced by 50% and there is also a special Gallery Collections available with all 5 Galleries in a larger resolution!




Hello & welcome to my small website on D-Models!


My name is Jennifer, I'm 20 years old and I live in Germany in a town called Kleve. It's just across the border with The Netherlands. In 2005, when I was 15 years of age, I needed a risky surgery on my back. Unfortunately it failed and I became partially paralyzed. This means that I have very little movement left in both my legs and I need a wheelchair to get around since then. This was a huge shock and disappontment for me and my family but I decided to make the best of it. I got a lot of support from my family and friends and that gave me the strength to go on. These days I feel myself fully adapted to my changed condition, I live an active life and I hardly experience any limitations because I'm in a wheelchair. When I set my mind on something I want to achieve, I succeed (except for walking then...). I'll start a new study in september and for that I have to move out. This means that I'm busy finding an apartment and I feel very excited about living on my own. Things I like to do are swimming, visiting rock concerts, reading science fiction books, having fun and hanging out with my friends. A few months ago I was asked to join the D-Models website. I had to think about it but I decided to give it a go. The photoshoot was very nice to do and I already look foward to do the next one. Because of my busy schedule I don't know when that will be but I'll do my best. If you look at the pictures we did so far you'll see that I like to dress a bit more different then the majority. We kept it a bit modest now, but I really like to show you more of my exquisite clothingstyle next time. Like the other girls I don't know what to expect from this website but I had a lot of fun so far. If you want to know more about me feel free to ask me by sending me an email!


E-Mail: jennifer@tajvdz.nl