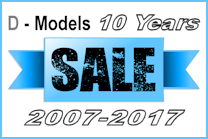 Hello & welcome to my small website on D-Models!


My name is Krysta and I'm 30 years old. I live in The Netherlands now, but I was born and raised in Poland in a town called Lublin. Together with my brother and two sisters I had a very normal childhood, but when I was 11 years old I began to develop a severe form of scoliosis. This had a big impact on my teenage years like serious headaches, pain in my back and legs and tiredness. With a brace and casts they tried to correct the curve in my spine but when I was 17 years old the doctors decided that I needed a risky surgery. They attached some metal instrumentation to my spine and it all seemed to help me. About one and a half year later I needed surgery again to make some adjustments to the instrumentation, but this went a bit different then expected with a dramatic result for me. During the surgery It seemed that they had to damage nerves to make the adjustments correctly and hoping that it didn't cause too much damage. If they hadn't done that it would have damaged my nerves more serious in a few years time for sure. So this was a difficult decision that was made for me. After the surgery it turned out that I became an imcomplete paraplegic and there was not much hope that I had enough strength left to walk again. This of course was a very dramatic change in my life, and after rehab I still wasn't able to walk. I am in a wheelchair now for about 10 years. I tried to pick up my life at first, but that was very hard. I wasn't able to finish my study and it was very hard to find a job. I wasn't able to do much and because of that I also gained a lot of weight wich made it even harder to get around.

About 5 years ago my life got a positive turn. Together with my sister I moved to The Netherlands. Family of mine was living there so we found a possibility to move in with them temporarily. During that time my sister found a job and I was able to stay as well. In The Netherlands the living conditions for disabled people is much better than in Poland so I was able to pick up my life piece by piece. First I learned the Dutch and English language so I could do some translation work, and after that I also found a job. For almost 3 years now I work for an agency that employs Polish employees in The Netherlands and I also have to arrange the transport from their homes to work. This is a very nice job to do and my disability is not a problem to carry it out.

Besides my work I like to do some translations for friends, reading books, listen to music and spend time with my boyfriend that I know for a few years now. Last year we moved in together and we are doing very well . So my life turned out for the better the last few years and that gave me a lot of self confidence. However when I was asked to do a photoshoot for D-Models I had my doubts at first. My boyfriend encouraged me to do a test shoot. He agreed to come along with me, so I did it. When I saw the result I still wasn't sure to go through with it. I'm naturally a bit naughty, so I wanted to express myself a bit more than most of the models on the website. Then I saw the old Amanda website and I was told that that style was also a possibility. I liked the idea so I agreed to go along with more revealing pictures! The second shoot was done outside with partially some sexy outfits and the third shoot we did was inside with lingery as well. I'm happy now with the result and I hope you like my pictures as well! If you do I'm planning to do more shoots in the future!

If you have some questions for me after reading my story feel free to ask them by writing me an email!



E-Mail: krysta@tajvdz.nl