Special Sale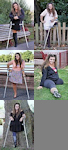 For a limited time only the prices of all Galleries of Leanne are reduced by 50% and there is also a special Gallery available with all 5 Galleries for a very low price!




Hello & welcome to my small website on D-Models!


For the people who don't know me yet, my name is Leanne. I'm 33 years old and I live in the capital of the United Kingdom, London. At the age of 21, so that is already 10 years ago, I lost my leg to cancer. In 4 years time I had 13 operations what caused me being a left above the knee amputee. In 2007 I released my DVD "'Leanne's Chair Workout" and book "Just a Step". They were both very successful. I also realeased a few calendars with pictures of me on it. I love going out and having a good time, and I also like to motivate other people. Nowadays I'm a radio presenter, author, international speaker and media personailty. Last year I also became a mummy. As an amputee and cancer survivor I believe anything is possible!

A while ago I was asked if I was interested in doing a photoshoot for the D-Models website. I'm asked a lot for shoots and did many before, including a shoot for Ampworld a few years ago, but I liked this idea and decided to do this shoot as well.

I hope you all enjoy these photo's of me. If you want to know more about me feel free to ask me a question by sending me an email!



E-Mail: leanne@tajvdz.nl