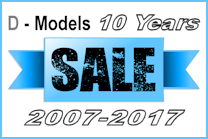 Model of the Month September

For a limited time only the prices of most Galleries of Linda are reduced by 50% and there are also 3 special Gallery Collections available with the older Galleries in a larger resolution! Also the 4 most recent Galleries have a temporarily lower price now!







Hello & welcome to my small website on D-Models!


My name is Linda and I'm 30 years old. I live in The Netherlands in a village near Breda. At the moment I live there alone with my dog. In 2008 I fell from a horse and broke my back. I wasn't able to move my legs and in hospital I was told that there wasn't much hope that I would ever be able to walk again. Two weeks later I was officialy diagnozed as being paraplagic at level L1. My biggest fear became reality and I thought my active life came to an end. After my time in hospital I spent 8 months in rehab and in january 2009 I came back to a fully adapted home where I all ready lived together with my boyfriend. My life was different and little by little I got the strength to enjoy it again.

Before my accident I just started a job as a field manager for a publisher and in the evenings I also worked as a fitness instructor. Besides that I loved horseback riding, walking with my dog, playing hockey, shopping and I also did some modelling work. Lucky for me my former boyfriend was a big support for me during the hardest time of my life, but we decided to split up about 2 years ago. I was also able to come back to my job, but I do that mainly from the office now. I'm not able to do all things I liked before but to keep myself busy I play wheelchair hockey now and I also started a make-up course. That's how I got involved with the D-Models website. I never thought that I would be useful as a model again but after seeing the existing models I decided to give it a go. I really liked the photoshoot and I found out that I still had it in me to pose! I really did't know what to expect from it, but after I saw that you chose me with a big lead as the first new model it gave me a lot of self-confidence.

I had my third shooting for D-Models recently and so far we have 16 different sets. You can see a preview of most sets on the left, and of course they will be added as new galleries from now on! Because of some personal and physical problems I had to face the last few years I gained some weight, but right now I'm working hard to get back in shape again! I think you'll also notice that I have a new hairstyle and a new wheelchair. Despite of these changes I hope that you will like my new pictures, so I can do a lot more new photo shootings in the future!

As an extra we published a Photobook with some older pictures of me that were taken before my accident.

I hope you all enjoy this website and my photo's! If you want to know more about me ask me a question and if you have some requests for my next shoot feel free to write me an email as well!



E-Mail: linda@tajvdz.nl