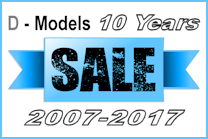 Hello & welcome to my small website on D-Models!


My name is Lisa and I'm 23 years old. I live in a small village in the Netherlands near Amersfoort. I was born there and at the moment I live there again with my parents and my younger brother. My older brother and sister have already moved out. As you can see on the pictures I'm sitting in a wheelchair. This is due to an accident I had about 3 years ago. I was hit by a car while I was crossing the street on my bike. In the beginning it seemed that I only had a minor concussion, a sprained ankle and some bruises but after a few weeks my legs started to feel a bit numb. When I arrived at the hospital I wasn't able to move my legs anymore. On the x-rays the doctors saw that 2 vertebrae had shifted and I was rushed into surgery. During the operation it seemed that there was more damage to my spinal cord and that there was a real chance that nerves were damaged permanently. This turned out to be the case and since then I'm paralyzed from the waist down. This was a very big shock for me and my family, but I have a very positive attitude so I always try to make the best out of a bad situation. How difficult it sometimes is, I have to accept that I can never walk again.

At the time of my accident I was in the first year of a communication and information study in Utrecht. I didn't like it that much, so I was al ready having some doubts if I had to start the second year or I had to switch to another study. During my time in hospital and rehabilitation I began to take an interest in medical matters so last year I started the study biomedical sciences. I'm in my second year now and it suits me very well. So basically the misery around my accident has sent me into the right direction concerning my future! The only thing I would like to change is that I don't have to travel from my house to Utrecht every day, but on the other hand it is always nice to come home to a familiar environment. At the moment I'm trying to find a room in Utrecht so I can live on my own again. In my spare time I like to hang out with friends, going to the movies, singing and shopping for clothes. My mother is from England so that explains my specific taste in clothes. While I was traveIing by train I was asked if I was interested in doing a photoshoot for the D-Models website. I liked the idea so I decided to do it! I hope you can see that despite my disability I'm idependent and still have my own identity.

I hope you all like my photo's and if you want to know more about me feel free to ask me a question by sending me an email!



E-Mail: lisa@tajvdz.nl