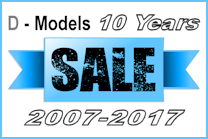 Model of the Month July

For a limited time only the prices of all Galleries of Marissa are reduced by 50% and there are also 3 special Gallery Collections available with the Galleries in a larger resolution!




Hello & welcome to my small website on D-Models!


My name is Marissa and I'm 22 years old. I live in The Netherlands in a town called Haarlem. About 7 years ago on october the 13th of 2004 my life changed dramatically. Two days earlier it was my birthday and I got a scooter from my parents. In very bad wheather I got involved in an accident and the result was that I became paralyzed from the waist down. I have slight sensations in my right lower leg but I will never be able to walk again. Piece by piece I managed to pick up my life again but I have to accept that I'm in a wheelchair for the rest of my life. These days I try to live my life as normal as it should be. I go to school again and listening to hardcore music is a very big hobby for me. This music gave me very much strength to go on with my life. I also go to hardcore party's, and as you can see on my pictures is that I dress as a gabber-girl most of the time because I feel very comfortable in it. Before my accident I did some photoshoots and I liked that very much. Unfortunately it came to an end after my accident but when I was asked to start this website I didn't have to think long to say yes. Pictures of me are for sale on this site and I will try to add new galleries on a regular base. There are also a few old holiday pictures of me here and I will also try to show you some pictures from my earlier modelling. I hope that you will like this website as much as I like to have it. It is online for almost 5 years now and I did 2 shootings for it so far. We have to see if there will be any new pictures because I'm facing some difficulties in my life right now. It's also a year longer that I'm stuck in this wheelchair, 6 whole years allready since my accident. It's still hard but I'm trying to hang in. Hearing from you that I still look good on wheels helped me a lot. It's not difficult to see the difference between my first and second shoot because I have blonde hair now. I hope you like that change as well!
I will tell you more about myself soon but in the meantime feel free to ask me anything you like to know by sending me an email!



E-Mail: marissa@tajvdz.nl


The story above was written at the time of Marissa's second shooting in 2007!