Special Sale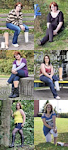 For a limited time only the prices of all Galleries of Naomi are reduced to € 7 and there is also a special Gallery available with all 6 Galleries in a larger resolution for a very low price!




Hello & welcome to my small website on D-Models!


My name is Naomi and I'm 24 years old. I live in The Netherlands in a town called Venlo. I live there together with my boyfriend and our 2 year old son. In may 2008 my left foot had to be amputated. This is also called a Syme's amputation. This all started in 2001 when I discovered a lumb in my foot. I finally had surgery in 2003 and they removed it. It was diagnosed as a benign tumor, but there already was some doubt. In the beginning of 2007 I discovered a new lumb at the same place. They removed it in februari 2008 and then it was diagnosed as a highly malignant tumor. The doctors didn't want to take any risk and it was safe to remove a lot of tissue. So at first they were talking about an amputation just below my knee. Fortunately I was able to keep my lower leg and only my foot had to be amputated through the ankle. My healing and rehabilitation went fast and in September I started to work again and I was also able to pick up my old life also. I work in a shop and taking care of my friend and son keeps me busy all day. In my spare time I like to chat on the computer and I also like to watch television. Thanks to a friend I heard about the D-Models website. She introduced me so I could get some more information. I liked the idea of doing a photo shoot. For me it was a good way to get back my self-confidence. I really liked doing the shoot and the coöperation with D-Models. I hope you will like my pictures as well that are for sale on this site now!
I will tell you more about myself later but in the meantime feel free to ask me anything you like to know by sending me an email!



E-Mail: naomi@tajvdz.nl