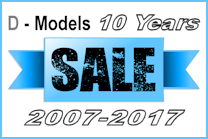 Model of the Month October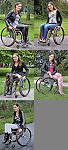 For a limited time only the prices of most Galleries of Nathalie are reduced by 50% and there is also a special Gallery Collection available with the older Galleries in a larger resolution! Also the 3 most recent Galleries have a temporarily lower price now!







Hello & welcome to my small website on D-Models!


My name is Nathalie and I'm 25 years old. I live in The Netherlands in a village near The Hague called Wassenaar. I live there with my parents and younger brother and sister. After I was born I seemed to be a healthy baby, but after a few months my partents noticed that I had problems with turning around. A doctor in hospital found out that I had a form of cerebral palsy, called little's disease. When I was about 7 months old my parents were told that there was not much chance that I would get a life like a normal child. This was a very big shock for them, also because I was their first born child. It turned out that I was able to move my legs but that they didn't get the right signals from my brain. In the house I used a lot of methods to move around, but outside I was put in a wheelchair. Being in a wheelchair didn't stop me from having an active childhood. However my time in highschool was difficult for me. I found it very hard that others had a normal puberty and that I had to go through this time in a wheelchair. Nowadays I feel very comfortable and have a positive attitude. I also don't feel ashamed anymore to show myself exactly like I am!

For about 3 years now I do a study for business econimics and I also have a job in a callcenter. Besides that I like to go shopping for new clothes, going out and playing wheelchair basketball. I also have a boyfriend and he has no problem at all with me being in a wheelchair! When I was asked to join D-Models, I never would have thought that I would be useful as a model, but people around told me that I should give it a go. I smile a lot and that really helped me out during the shoot! I really liked the first photoshoot and I didn't have to hesitate to say yes to a new shooting that took place in july 2012. On a rainy day we did the shoot. We had to be creative to stay dry but we managed to do that. I had a lot more self-confidence then the first shoot and I look a lot more mature on the new pictures as well. We used a few new outfits and the result looks very good! I received a lot of positive comments so far so I hope to get lots more. I'm also willing to do more shoots in the future!

I hope you all enjoy my photo's and if you want to know more about me feel free to ask me a question by sending me an email!



E-Mail: nathalie@tajvdz.nl