Special Sale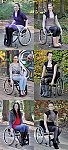 For a limited time only the prices of most Galleries of Roxanne are reduced by 50% and there is also a special Gallery available with the first 6 Galleries in a larger resolution!






Hello & welcome to my small website on D-Models!


My name is Roxanne and I'm 25 years old. I live in The Netherlands in a town called Eindhoven, but I was born in the former Yugoslavia in a town called Mostar. In 1994 when I was 3 years old my parents left the country because of the Balkan war and they moved together with me and my older and younger brothers to The Netherlands. Since the situation is safe again over there we visit our family in what is now called Bosnia and Herzegovina every year to go on holidays and to celebrate my bithday. In the summer of 2009, a few days before my 19th birthday, I was involved in an accident that has changed my life forever. During a trip in the mountains I fell and because of that I became paralyzed from the waist down. I spent about a month in hospital there before I was transfered back to The Netherlands. Instead of starting a new study I had to go to a rehabilitation center to start to learn to live my life in a wheelchair from then. I found it very hard to accept what happened to me but with the support of my family and friends I found back my positive attitude. I try not to think about what I can not do anymore now but about what I still can do. Last year we went back to my home country for the first time after my accident. It brought back some bad memories but at the end it was a good decision to go. It helped me a lot to end this unpleasant period in my life.

A lot happened since the start of this website about 2 years ago. I lived together with my parents and my younger brother then and I had a boyfriend for a few months. At this moment I live together with him and we are expecting our first child. On a few pictures you can see on the left I am 7 months pregnant. I also just started a new study then but I stopped with that in the second year. After our baby is born I will look for a job. Besides spending time with my boyfriend I like to watch movies, reading, shopping, playing chess and going out with my friends. During my time in rehabilitation I also found out that handbiking is a nice sport to do. Before my accident I had a passion for traveling and I was able to pick that up again.

In August 2011 I was asked to join D-Models. I liked the idea but I never did a photoshoot before. I talked about it with my friends and they encouraged me to give it a try. Two months later we did the shoot and I had a very nice day doing it. I was able to wear high heels again what I haven't done much since the accident. When I saw the pictures I found it very hard to see myself on wheels but other people liked them so I decided to continue to start this website. The website is online now for a while and I received some very positive feedback. This gave me lot more confidence for the future! I did a short second shoot to show you that was am pregnant, and after the baby was born I did a new photoshoot again. If you want to know more about me feel free to ask me a question by sending me an email!



E-Mail: roxanne@tajvdz.nl